The Swiss School of Management is happy to invite you to our next webinar session of this academic year.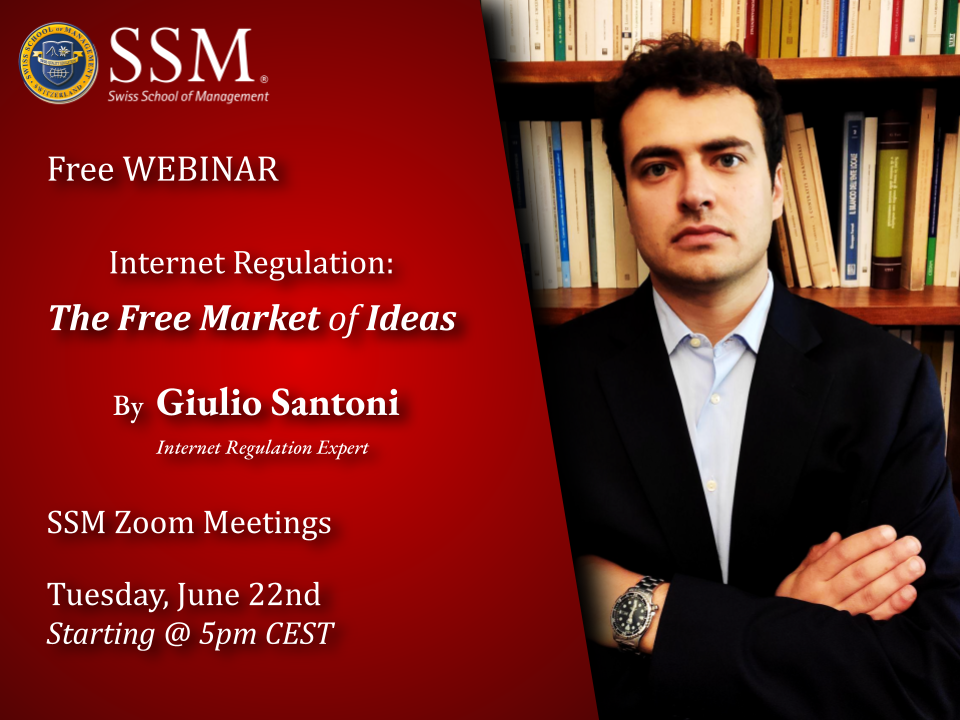 It is with great pleasure that we'd like to announce our next webinar session of this academic year. On Tuesday, June 22nd @5pm CEST,
SSM is proud to present a free webinar by an internet regulations expert, Giulio Santoni, who will take us on a journey about internet regulations, including details on his own experience of working in the sector for China and other countries. Internet Regulation: The Market of Free Ideas will take place on Tuesday, June 22nd @5pm CEST. If you would like to gain an insight about the complexity of this world, make sure not to miss the event and register now as places are limited!

In a world which has almost completely shifted online, with the development of new technologies and a prolonged global pandemic, we find ourselves completely dependant on the internet. In what now seems to be a long time ago, when you wanted to know more about anything, you'd have to either go to a library and find the right book, ask a professor, your parents, or find out through friends. You'd also have to trust word of mouth, as if you didn't have enough knowledge about a subject, you would not be able to prove anyone wrong in their claims. This would just lead to doubts, "do I believe him, do I not?", but the world today has changed drastically. What once started as the name of a search engine has now turned into an urban verb! "Hey, you don't know anything about this topic? Google it!".
It is incredible how the internet has connected different people coming from completely different contexts. We are a primary example; the SSM family prides itself in its international community, as people from such different parts of the world have connected through being part of our network. Yet, we must keep in mind that different countries around the globe allow for different levels of access to the internet. Internet regulations may heavily affect the direction a whole population may take in the development of it's culture and mentality. This brings us to the key question: is internet regulation positive or negative? What should be the limits applied, if any?
To register, please follow this link.
About the speaker
Giulio Santoni graduated cum Laude in Law at the University of Rome Tor Vergata, after which
he started his law practice between Shanghai, China, and Milan, Italy, between 2013 and 2016.

In 2017, he returned to China to pursue his Master of Laws through a Chinese scholarship
program.
He is currently a PhD candidate in the University of Rome Tor Vergata, in co-tutorship
with the China University of Political Science and Law. He is also a research fellow at the Vidal
Sassoon International Center for the Study of Antisemitism, at the University of Jerusalem.

Having an extensive background in internet regulations Giulio will offer an insight about the delicate topic.