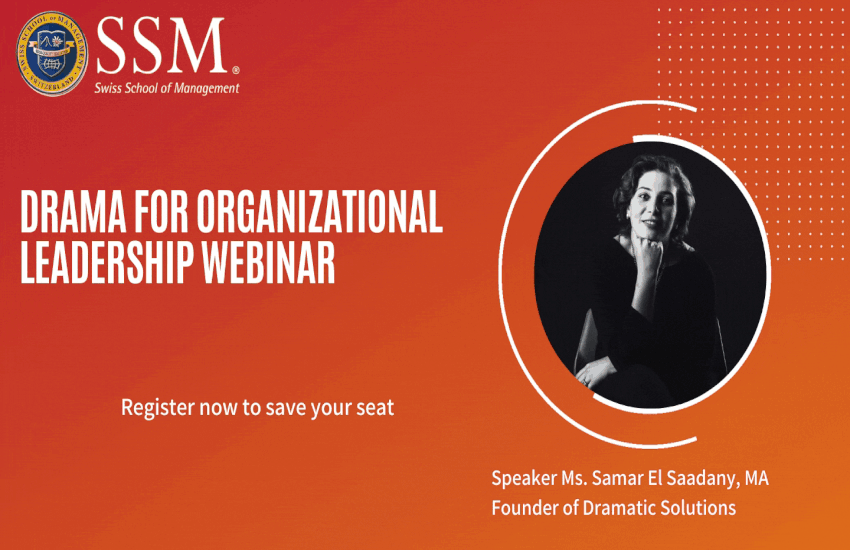 Starting 2021 with the amazing webinar "Drama for Organizational Leadership" with Ms. Samar El Saadany, MA Founder of Dramatic Solutions.Webinar Moderated by Dr. Ahmed Sobhi Hamidou, Dean of SSM Egypt & KSA.
Unprecedented workplace problems require unprecedented solutions!
In today's business environment, we are encountered with several challenges; team dynamics, mental health issues, cross-borders leadership. That's why leaders need to have the ability to look at work challenges from a whole new perspective. In this webinar, you will get introduced to how drama can be used to solve organizational challenges.
You will be introduced to several theater exercises that stimulate imagination, spontaneity, and collective problem-solving. You will be surprised by the ways in which our spontaneity can generate solutions we have never thought of and how collective effort can lead to original ideas!.
About the speaker Ms. Samar El Saadany:
Samar works on the intersection between anthropology, psychology and theater. After 13 years of working in the learning and development field, I grew an appetite for long-term learning about psychology. Along the process, I discovered how fascinating theater training is! I hate performances! but I love theater training! I stumbled upon what is called psychodrama and at this moment I felt I found my thing!
Samar is a certified psychodramatist (drama-based therapy) from Therapeutic Spiral International (USA), an interactive-theater practitioner, and a three-year physical theater student. She has a three-year group therapy certificate from The Egyptian Association for Group Therapies (EAGT) and is currently enrolled in a three-year program to become a somatic experiencing practitioner (SEP) for trauma-based response.
After working for 12 years in talent development including instructional design, learning design, psychometric assessments, monitoring and evaluation, She decided to start Dramatic Solutions; an interactive theater consultancy service for organizations where theater elements like imagination, emotions, character creation, the use of voice, movement are used to stimulate spontaneity and creativity among participants. We help organizations creatively and collectively solve interpersonal challenges affecting their businesses
Samar has graduated from business administration department in Cairo University and has an MA in Anthropology from The American University in Cairo (AUC)
Currently, Samar works as the deputy director for Experiential Learning at Ain Shams University Career Center, serving thousands of students in their career choices.
Date & Time: Our next webinar will take place on January 12th, at 7pm CET.
Register now to save your seat :https://lnkd.in/gW35Vr9