The Swiss School of Management is happy to invite you to our next webinar session of this academic year.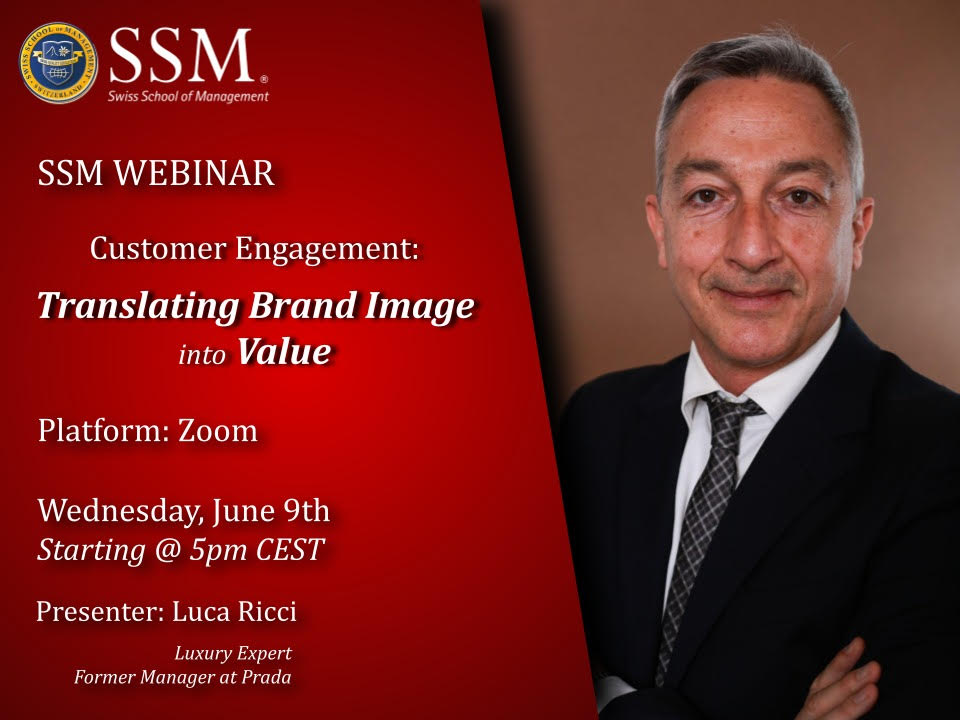 It is with great pleasure that we'd like to announce our next webinar session of this academic year. On Wednesday, June 9 th @5pm CEST, during his free webinar "Customer Engagement: Translating Brand Image into Value", Luca Ricci will provide a real vision of the luxury retail business
correlated with the need to obtain results to achieve budget/sales objectives and give concrete
operational examples of how to reach these goals.
To register, please follow this link.
As the world progresses, changes in perspective are constantly adapting. Today, we are witnessing
a new Era of Knowledge. We have become accustomed to having access to information at our
fingertips, but are we using this knowledge in a productive way? Managing organizations is not as
easy as it may sound despite this abundance of knowledge. We need to get smart to lead
successfully, and that is what we will be discussing with Prof. Dennis Trotta.
About the speaker
Luca Ricci is a fashion luxury retail professional and former manager at Prada.
Most of his professional background is the result of many years dedicated to the organization and rationalization of business processes, retail management, and production of events, all in multinational environments.
His main interest is looking at multi-channel and communication processes of the brand in relation to the design of new concepts of customer journey.
His latest goals are focused on the processes to develop a new business strategy in relation to the new multi-channel dimension of the shopping experience, client segmentation and client contact strategy.
Recently he graduated with a bachelor's degree in Science of Tourism, which helped him improve his skills in storytelling and to elaborate on the issues related to the economy of the experience.