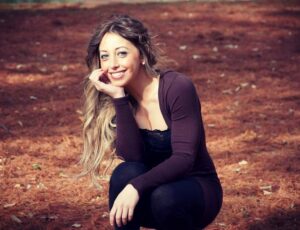 Name: Perla Masi
Place of work: Rome, Italy
Graduation year: October 2016
Employer: International Fund for Agricultural Development (IFAD)
Current Job: Administrative assistant and assistant to the Director and to the Front Office in the Partnership and Resource Mobilization division (PRM)
Favourite Quote: The secret of getting ahead is getting started. (Mark Twain)
Where do you see yourself in 5 years?
I see my self working for the United Nations as a professional and taking care of a beautiful family of my own.
So, you finished classes in 2016. Tell us about your experience after your MBA Program.
My story might be a bit cryptical to understand but I'll try to explain. I worked three years for an agency of the United Nations based in Rome as administrative and program assistant. I completed my MBA at the Swiss school of management while working full time since the evening classes gave me the possibility to both study and work. It was tough, but I made it. After I graduated in 2016, I was feeling I could do more compared to what I was doing at that time and so I took a great risk deciding to go through the professional career path; I quit my job and I went to NY for a brief specialization in project management for the UN. Then back to Italy, I started looking for new job opportunities and finally a chance knocked on my door. I've recently been selected for an internship in an agency of the United Nations in New York which I will begin in January and which makes me very excited. For me it represents a new dawn in my career.
What skillset do you need to do your job?
Planning and Organizing, Leadership, Management, Strategic Thinking, Communication, etc. All skills needed when you work for the UN and work with people with different backgrounds.
How has your MBA helped you in your current position?
The MBA pulled the trigger and made me feel ready for a new career path. It got me focused on what I really wanted in life, what my strengths and weaknesses are and made me face them. It provided me with the skills I needed to make my academic preparation more complete, making me feel secure and aware of my new ambitions.
What are your future plans?
For the next 4 years, I want to focus on building a strong career using all my newly acquired skills and building myself as a professional. In few years, I see myself probably starting my own business working between Italy and the US.
If you could describe your experience in Rome during your MBA how would you sum it up?
Not only has it been educational and interesting, but also fun and entertaining. A great period of my life during which I met amazing people from all over the world who are still my friends. I have such beautiful memories. SSM became a second family.
Can you share an experience that is most memorable with relation to the MBA program?
I remember particularly the day we created our "big picture" during our leadership class. We worked together cutting up photos from magazines, newspapers and journals we brought to class. We went through a laborious process of cutting up images to create individual posters representing the future of everyone of us, our goals and how we saw ourselves in the future. I still keep my big picture at home and I look at it anytime I have doubts about future goals.
What was your favorite class in the program and why?
• Leadership 360 degrees
• Competitive Strategy
• Marketing Dynamics
• Negotiation Skills
What advice would you give newcomers to the MBA program or for those interested?
Believe in yourself. Always. Never, ever underestimate your skills and what you can achieve. It all depends on you and the energy you employ in what you really wish for. Don't allow people to convince you are not enough and that it is too late to change your life goals. As long as you believe you can do it, there will be nothing and no one able to stop you. Go through this MBA open minded, ready to challenge yourself, learn from others and you will make the most out of it.
What do you think differentiates this MBA from other MBA programs?
SSM offers a very flexible program for executives featuring also late evening classes. Moreover, the professors are successful professionals who will share their own experiences with you offering not only theoretical notions but also practical pieces of advice and that's going to be the most interesting part of the whole.