Doctorate of Business Administration (DBA)
Introduction
Welcome to the SSM DBA program
DBA Studies are one of the most challenging and highest rewarding levels in Higher Education. The Swiss School of Management has developed outstanding Doctor Programs. These programs have unique features, which add significant values to Graduates beyond the rewarding Doctor Degree.
Multiple academic collaborations contribute to the exceptional program quality, starting with the involvement of highly renowned and recognized academics as Directors of Studies. Our Doctor candidates are supported on an individual base by both SSM Professors and visiting Professors from a wide variety of international Universities.
Today, academia has no more borders. Therefore, the knowledge and expertise of experienced academics influence the structure and content of our Doctor Programs, from which candidates can select the option that accommodates their necessity.
The Doctor of Business Administration will be awarded by the internationally recognized Swiss School of Management. The result is based on delivering studies of highest quality and multiple benefits to SSM's Doctor candidates. Swiss School of Management is committed to impress and to express: impress through the value of the studies resulting in Degrees, which express the outstanding skills of those being awarded. This gives them the possibility to develop a top career in industries, administration and academia.
Two major pathways are offered to Doctoral Candidates. The first pathway is known as Professional Doctorate. The notion 'professional' should not be misunderstood. They are by no means only professional qualifications. Professional doctoral studies have been globally developed and are accepted as fully-fledged doctoral degrees. In contrast to PhD studies, their purpose is applied sciences: research in what is called the real world, for application in it. Likewise, the most famous degree pathway here is the Doctor of Business Administration (DBA).
The Swiss School of Management offers a Doctor of Business Administration (DBA) program based on blended and online learning principles. The program is highly structured and internationally accredited by IACBE. Due to the blended learning aspects, there are no admissions deadlines. Individuals can start, pause, and finish whenever they want.
Each DBA candidate receives a lot of support from a dedicated supervisor and a mentor, and access to digital libraries and live (digital) events. Joining the DBA program at SSM gets you access to our International Expert Group. In the following paragraphs, these reasons to start your DBA with SSM are explained in detail.
Universities around the globe have extended doctoral studies to these professional doctorates for many good reasons. The industries are very interested in such graduates and this is demonstrated by the results of their job applications, as DBA Degree skills and capabilities go beyond any Master's graduate. At the same time, these doctoral graduates are practice-oriented. Consequentially, they are the first choice candidates for top-management positions. On the other hand and without any doubt, PhD studies have not lost their reason and attractiveness.
The Doctor of Business Administration addresses research in business, economy and management. The thesis can be oriented by the students' personal interest and based on their personal work environment. At the end of these studies, students are awarded with the Title of "Doctor in Business Administration (DBA)".
Before of the Degree awarding, the DBA thesis has to be written and defended in the viva. The thesis argument is about applied sciences. It consists of 50,000 words, which fulfils the criteria of independent research on a superior level and consequentially demonstrates the internationally acknowledged standards of doctoral studies. Type and style of this research are source-oriented on applied sciences, in which a solid theoretical understanding must be evident.
The variety of topics is extensive and candidates can make their own choice upon approval of the Academic Board. The only request is that the selected research relates to management, business and / or economy. Theory and empirically consistent research, which the thesis delivers, are expected on a superior level. An individual Director of Studies will support each student during the development and writing of the thesis. Students will find personal support, but they are expected to work individually, accordingly to the individual nature of such studies on this high level. Therefore, strict limitations on extent and length of such support are applied.
10-step overview of the DBA at SSM
The DBA at SSM is designed in such a way, that students finish in two years. Extention years are usually not granted. The program is chopped into three phases: Coursework, Research lab, and Doctoral thesis. During those phases, students are guided and coached by their mentor and supervisor.
Individual study plan
The first step for applicants is drafting their initial research proposal. This is a 10-page document answering the most important aspect of the intended research. SSM supplies a template for candidates to use to speed up the process. Candidates do not have to think about structure, we have provided it already. It is wise to start with the initial research proposal as soon as possible and complete this step within two weeks after enrollment. The candidate's supervisor will review and give feedback on it. During the application process, applicants write an essay of 1,000-2,000 words with the core of the initial research proposal. The template of the initial research proposal that the student must use can be found here.
General Study Information
Duration of Program
The DBA program has a duration of 4 semesters and requires the acquisition of 120 ECTS-Credits.
Begin of Study
Enrolments are generally accepted throughout the year. Intakes will be announced on the website or via e-mail. Individual academic achievements, such as the portfolio of expertise, intensive courses and tutor coaching services, can be taken at any time.
Learning Structure
The program of studies is aligned to international standards of Higher Education and fulfils the criteria of the process of Harmonisation of Higher Education in Europe. It consists of 5 taught Research Method modules, which are delivered in two blocks. Attendance is required (a distance learning version will be introduced as alternative form of study as well.) The Doctoral Thesis demonstrating independent empirical research are an evidence of the candidate's ability and capability to undertake applied defendable, empirical research on the highest level of academic studies.
Mode of Delivery & Study
The DBA program is based on a practice-oriented and part-time study model. Due to the Covid-19 circumstances, all classes are online through Zoom. Please contact your nearest SSM Learning Center to ask about the mode of delivery. On site study, web- based learning, blended learning, distance learning are all combined with work-based study, which is supported by methodical coaching or supervised by faculty and teaching staff.
Assessment
Each module is assessed through one assignment, which consists of an essay addressing all the Intended Learning Outcomes of the module. Students are requested to write a critical review (parts of it) of the existing and actual literature taken from peer-reviewed research publications.
Dissertation and Viva
DBA candidates are requested to submit a doctoral thesis, which fulfils the criteria of independent research following acknowledged standards of empirical research. The thesis consists of 50,000 words (+/- 10%). The DBA candidates will defend their thesis through a summarizing presentation.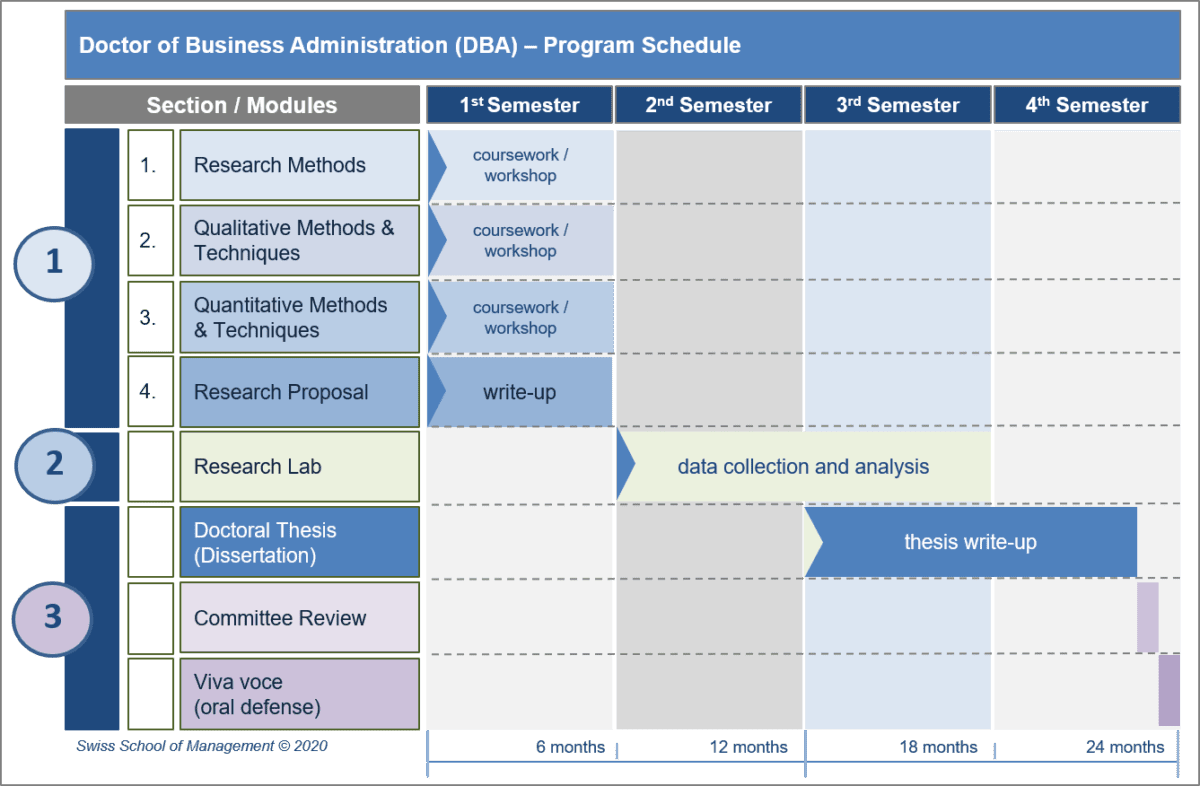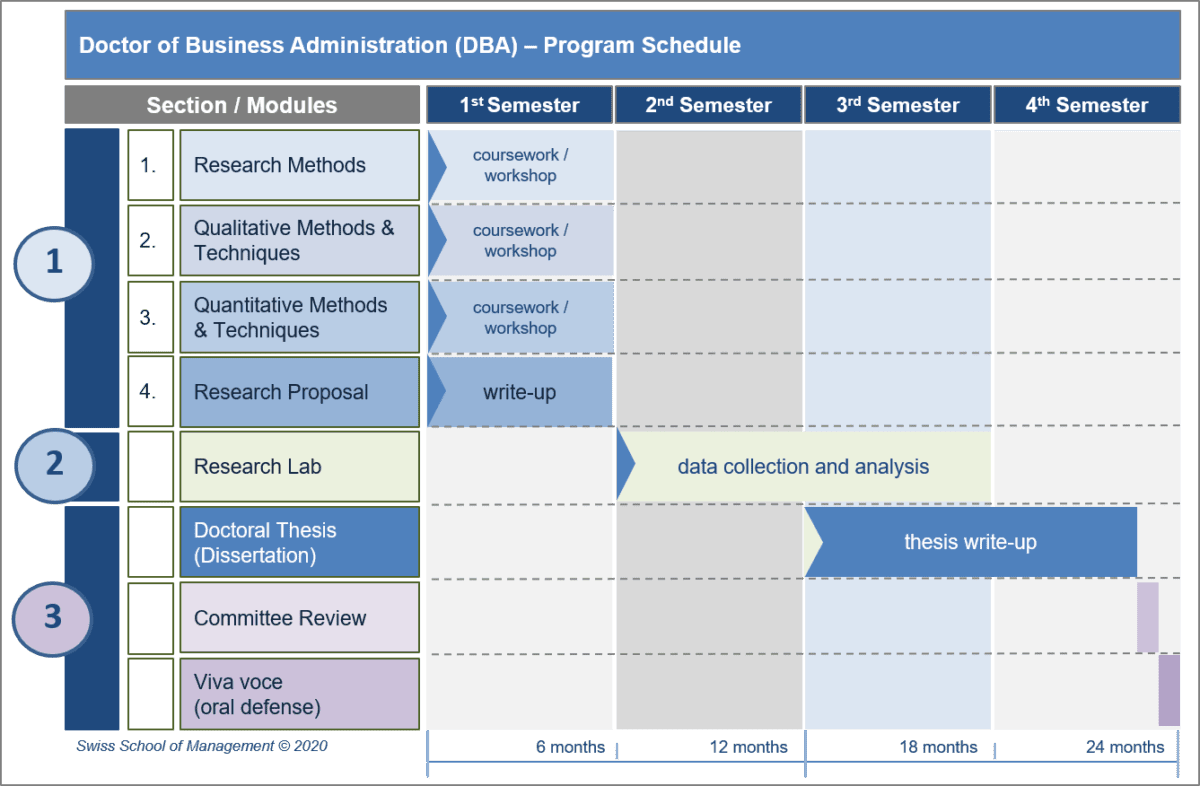 The DBA Program structure is aligned with international standards of Postgraduate Education and, accordingly, fulfils the criteria of the process of Harmonisation of Higher Education in Europe (Bologna Process).
The doctoral program will require the accomplishment of five taught Research Methods modules as first stage. Only the successful fulfillment of all five modules entitles students to progress to the second stage, the thesis level.
The successful students will acquire 120 ECTS credits throughout the course:
30 ECTS credits through the fulfillment of 5 Research Methods modules (6 ECTS credits per module)
90 ECTS credits through the Doctoral's thesis
The modules are delivered interactively and are based on actual knowledge and research in this pathway. The "Research Methods" modules are taught via lectures and/or seminars and require students attendance. A long-distance learning version will be introduced as alternative form of study as well.
The data collection, the analysis of data and the Doctoral Thesis demonstrating independent empirical research are an evidence of the candidate's ability and capability to undertake applied defendable and empirical research on the highest level of academic studies.
This program of studies is considered relevant, rich and academically valid thanks to the adoption of the highest standards of Higher Education. Additionally, superior professional standards have been embedded. Learning objectives and module contents are further closely related to the Six Principles of the PRME Framework of the United Nations.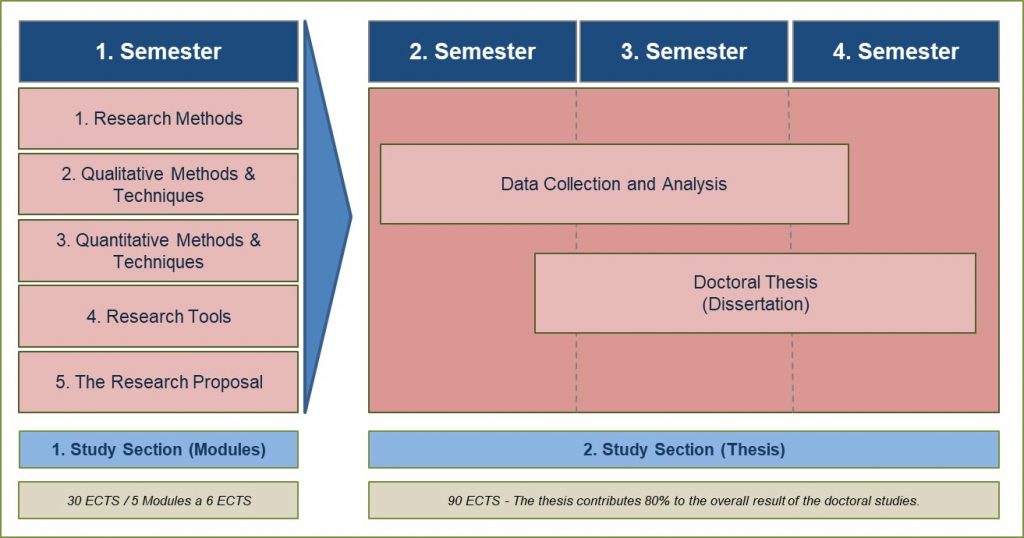 Workshop OUTLINES – Modules
General Entry Requirements
Candidates with Master's Degree
Candidates need to have completed a significant research project, dissertation or thesis, at university level. Candidates must own a comparable Master's Degree; i.e., it has to be awarded by an officially acknowledged Higher Education Institution.
Graduates without a Master's Degree are equally admitted, but they must have acquired another similar Degree, which can be directly compared to a Postgraduate Degree, i.e. equivalent to level 7 of studies. This regulation acknowledges differences, which may internationally exist on national levels.
Applicants for the Doctorate program DBA, are exempted from an English exam provided they completed their schooling years and/or bachelor's program at a recognized school where the medium of teaching is English.
In case this condition is unmet, then, the applicant needs to sit for one of the listed English exams:
Test of English as a Foreign Language (TOEFL PBT) – minimum score: 57
Internet Based Test (iBT) – minimum score: 61
International English Language Test (IELTS) – minimum score: 6.0
Pearson Test of English Academic Score Report – minimum score: 44
Duolingo English Test – minimum score: 95
4-skill Michigan English Test (MET) – minimum score: 53
Michigan Examination for the Certificate of Competency in English (ECCE) – minimum score: 650/LP
Michigan Examination for the Certificate of Proficiency in English (ECPE) – minimum score: 650/LP
Acceptance by the Department
Meeting our academic requirements does not guarantee entry. You must demonstrate an ability to research independently and possess a high level of theoretical understanding.
Acceptance is subject to staff availability for supervision. A committee decides whether your qualifications fulfil the admission requirements as a doctoral candidate. The department's committee usually meets periodically.
Policies and Procedures for Exceptions to Admissions Criteria
SSM allows candidates who hold recognized secondary school certificates and a BBA or BS degree but not a Master's Level degree to enrol at the DBA program Level and take courses and thesis toward a degree from SSM.
Such applicants should have gained at least 10 years of leadership experience and passed any of the designated internationally approved English Exams stated within the admission criteria section of the DBA program.
Transfer Credit Policy
Applicants aiming to join the DBA program and who have already started a doctorate level program in an authorized institution other than SSM are subject to the below transfer policy:
An official transcript of record showing courses and grades earned must be scanned. All certificates and transcripts should be translated into English unless they are issued in German, Italian, or French.
The admissions department validates the authenticity/legality of the transcript and its issuing institution.
Once authenticity is proven, a copy the transcript is sent to the transfer committee comprised of the Academic Dean and Head of Admissions.
The Academic Dean matches and maps the transcript courses with a passing grade against SSM's list of modules for transfer equivalence decisions. The five modules offered by SSM might be completely or (partially) waived in case the applicant had successfully accomplished similar comprehensive or (partial) research studies.
The number of credits to be transferred are modified so that they fit a common practice or norm used for conversion into the European Credit Transfer and Accumulation System (ECTS).
SSM grants up to 15% credits to transferring students of the DBA program requirements at SSM; thus, students need to accomplish at least 85% of their course requirements at SSM so that they earn SSM's doctoral degree.).
Application and Enrolment
How to apply: step by step from Application to Enrolment
1. Application and Biographical Information (Portfolio)
To apply for a DBA program, please submit the application form and provide us your biographical data. For this purpose, use the student portfolio form, which is used to assess whether an applicant is eligible for a Doctorate. In case of admission, the candidate receives a letter of acceptance. You can download the forms from our website or use the application form, which you will get at the Office of Admissions.
The Application form will ask you to provide biographical and academic information and to give details about your educational and extracurricular activities. Information must be completed with accurate dates on each entry. Please fill in the form carefully as far as you can, so that your application can be processed as soon as possible. All documents have to be submitted in an electronic version (PDF or jpg-Format) to the Office of Admissions.
2. Letter of Acceptance
SSM will notify you of the results of your application. Wait for it! In the case of admission, the student receives a letter of acceptance.
3. Educational Agreement and Tuition Fees
After receiving the letter of acceptance, please fill in the educational agreement. The student receives a confirmation of enrolment and can start the educational path, as soon as the study contract is signed and submitted (an electronic version/pdf-file can be submitted via email) and the application and tuition fee are paid at least for the first semester.
4. Begin of Study
An individual study plan can be prepared or discussed with a student counsellor, during a personal meeting or a preliminary seminar at the beginning of the course.
Students must submit the following documents in either one of the following languages, English or German, in order to be enrolled into the DBA program at the University:
Passport or ID-Card (photocopy or scan as pdf file)
Certification from an accredited secondary school, High School diploma, VWO, Baccalauréat, Maturité Fédérale, German Abitur or equivalent University degree certifications (Bachelor, Master, etc.)
Official Transcript of Records (educational records) / university Curriculum (a certification issued by the University / Faculty which contains all the marks that the student received for each discipline, in each semester, and the ECTS numbers for each discipline)
Curriculum Vitae
Evidence of English or German language proficiency (Toefl, Goethe Institute, Cambridge, or equivalent)
Please note: The original documents or original translations shall be submit on request or have to be given to your student counsellor.
Documents in other languages must be translated into one of the aforementioned languages and legalized by a public notary in the country of origin.
If necessary, school and university certifications and documents are required in certified form (Apostille), plus the following:
Passport photography (jpg or other file format)
A non-refundable application fee
Application form Portfolio – dated and signed in original (available on our website or at the Office of Admissions)
Qualification:
Doctor of Business Administration (DBA)

Structure:
Five taught Research Methods modules are delivered in two blocks and students' attendance is required; three semesters of data collection and analysis, and the final thesis (a long-distance learning version will be introduced as alternative form of study as well.)

ECTS-Credits:
120 ECTS Credits

Begin of Study:
Enrolments are generally accepted throughout the year. Intakes will be announces on the website or by email.
Duration of Programme:
2 Years / 4 Semester. Extension of study will be granted on request.
Requirements:
Completed Master's degree (or equivalent) or long-term professional experience (work-based entry route) and evidences of particular competences on an individual case; evidence of English and/or German language proficiency.

The DBA program will expand your professional skills as well as practical experience in your company.
A higher level of education makes you essential as an employee and opens doors for new challenges and tasks. In addition, you consolidate your, so-called, market value, which usually entails better financial benefits.
Embedded in the realities of global business, the DBA provides you knowledge, real-world skills, and business and management practice. It is also about your potential – it will develop your skills, enhance your career opportunities and expand your professional networks. Whether you are seeking promotion or looking for a new career direction, a DBA demonstrates that you are an aspiring employee who is prepared to invest in your career.
Getting a higher salary after graduation, holding a top management position or even becoming your own boss are just a few of the extra advantages of the DBA.
The total cost of the program is of Euro 30,000.
Broadly speaking, candidates are expected to pay in three main instalments as shown below:
| | |
| --- | --- |
| Application fee | € 400 – due immediately, non refundable |
| Enrollment fee | € 10,000 – before starting the program |
| First Installment | € 10,000 – at the beginning of the second academic year |
| Second Installment | € 9,600 – on the second-half of the second year |
| Total Tuition Fees: | € 30,000 |
IMPORTANT: The above tuition and fees do not include the access to our Digital Library, which has an additional cost of 100€ per academic year.
The above tuition and fees are for the SSM in Residence Programs in Rome, Barcelona and Brescia. At Swiss School of Management we firmly believe in equity by giving people around the globe the same opportunities to earn an SSM degree. For students applying from areas of the planet with unequal social or economic conditions, we offer different rates. Please contact our in residence Programs Directors in UAE, GCC, & Cairo as tuition fees vary.
Learn more about our Refund Policy.
Application fee
€ 400 – due immediately, non refundable
Enrollment fee
€ 10,000 – before starting the program
First Installment
€ 10,000 – at the beginning of the second academic year
Second Installment
€ 9,600 – on the second-half of the second year
Total Tuition Fees:
€ 30,000
The application process to all Swiss School of Mangement programs is fully electronic. Click here to go to the form.
Student Identity Verification Policy
Upon applying to join SSM for any program level students, need to submit the following documents:
Copy of personal identification (ID or passport)
Scanned Educational Transcripts
1 recent photo: passport size
Prior to any exam or oral presentation, students show the passport page including their personal information and photo close to the cameras for verification.
Students are supposed to enable and open their cameras during class live lectures, project presentations and exams until the activity ends.
Apply for the Full Time DBA Program
APPLY NOW
DBA Application
Fill out the application form for the SSM program and send it back to us at info@ssm.swiss to begin the process of applying.
Note: Application will not be reviewed until all documents have been received electronically and the application fee has been received.