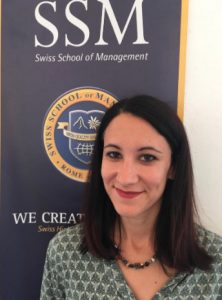 Arianna Bertilaccio is part of the Student Affair Office at the Swiss School of Management. She graduated in International Relations at Sapienza University as she was interested in deepening her knowledge about international studies and languages. This led her to participate in many study trips that brought her, for example, to spend an Erasmus year in Germany, where she joined the Model United Nations course. During her studies at university, she also went to Russia as a student visitor at the Russian Presidential Academy of National Economy and Administration in Moscow. Furthermore, she travelled to China and India because of her interest in the Asian region, participating in cultural exchange programs.
After completing her master's degree, she specialized in Diplomatic Studies at SIOI (Italian Society for International Organization), attending the II level master that allowed her to investigate relevant international relations' issues. She's now following the II level master in Geopolitics and Global Security because of her interest in contemporary scenarios.
Arianna always worked during her studies, both at university, through her internship at International Relations IX Division, and as civil servant for library services. During this period, she also worked for European programs on resilience and sustainability and, at the same time, she participated in volunteering groups, working with immigrant families or in environmental programs. She has experience in organizing events and public awareness campaigns, as well as in managing working groups.
During her last working year for Sapienza University at the International Office, she had the opportunity to deal with services to support new internationalization strategies in order to attract the best professors, researchers and students from all over the world. This experience also brought her in contact with both national and international realities, enhancing her qualities to deal with an international public.
She likes new international experiences and dealing with young, promising and talented students. For this reason, she is now part of Swiss School of Management.