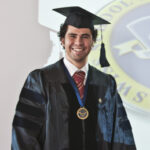 Name: Mazen Hafez Suliman
Place of work: Rolinc Staffing, Denver, Colorado
Graduation year: 2010
Current Job: Chief Skilled Trades Recruiter
Where do you see yourself in 5 years? I see myself working for one of the biggest international companies in the world.
Favorite Quote: "It is never crowded along the extra mile." Wayne Dyer
Tell us, about what you've been up to since graduation?
I worked for an international network while still living in Italy. In 2011, I moved to the US to marry my beautiful wife. I received a job offer from Rolinc before I had my work permit in hand. I started in March 2012 as a Recruiting Coordinator, and have worked my way up to my current role.
What skill set do you need to do your job?
The ability to network with different characters from different cultures – Prioritizing – Time management – Listening skills – Taking initiative.
How has your MBA helped you in your current position?
My MBA program gave me invaluable international experience, and taught me to think outside the box. I improved my English and Italian language skills as well as my presentation skills, and I learnt to interact successfully with an international crowd.
What are your future plans?
I will combine my 2 passions: HR and Sports to create my new career path.
If you could describe your experience in Rome during your MBA how would you sum it up?
My experience in Rome taught me how to be successful in the real world, and always be prepared.
Can you share an experience that is most memorable with relation to the MBA program?
The program forced me to develop my communication skills. English is not my mother tongue, so I vividly recall practicing my presentations in front of a mirror. This valuable experience prepared me for my current career in the US.
What was your favorite class in the program and why?
The Global Management class was the most memorable. I especially enjoyed hearing success stories and examples.
What advice would you give newcomers to the MBA program or for those interested?
SSM changed my life for the better, as It will change yours too. Don't miss out on this amazing opportunity.
What do you think differentiates this MBA from other MBA programs?
This MBA focuses on helping you get results and be prepared for the business world rather than just getting your degree.
Thank you Mazen and we wish you all the best in your future endeavors!